Future Fossils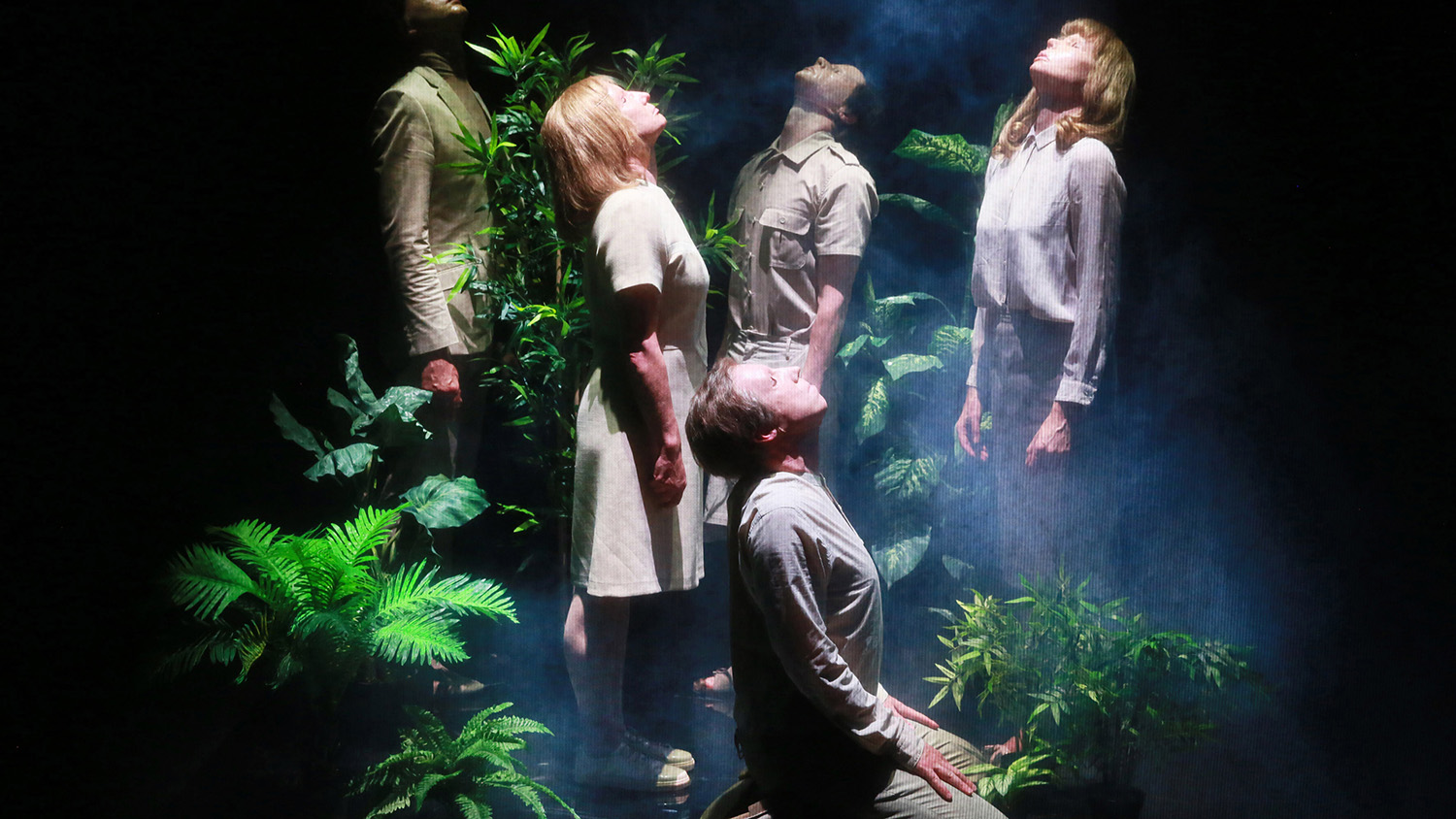 There is no such thing as reality
In Headroom, the theatre makers Boogaerdt/VanderSchoot and Erik Whien take you on a visual journey through the darkness to explore the space between observation and narrative. Can you see more in the dark than in the light?
Headroom is a hallucinatory trip constructed around an insistent sound composition by Wessel Schrik. In a darkness in which the subconscious holds sway and stories have their genesis, tableaux vivants appear and disappear. Recognisable situations constructed out of everyday objects and human forms nevertheless alienate and toy with our perception.
Bianca van der Schoot: "We draw inspiration from investigating the darkness for that which we cannot find in the light. Perhaps we have to make a start in that original darkness, the place where the dreams and stories of humanity began, if we want to take the next step."
Headroom is the product of a collaboration within the artistic core of Theater Rotterdam, between the permanent makers Erik Whien and Boogaerdt/VanderSchoot. Whien focuses on the human inner world to expose hidden stories while Boogaerdt/VanderSchoot cherish the state of not knowing, creating associative realities with lightning speed that explode just as quickly as they are made. The tension between these two different approaches is tangible in Headroom.


NOMINATED FOR THE VSCD MIME PRIZE 2018

Headroom has been nominated for the VSCD Mime prize 2018. From the jury report: 'The darkness of an entirely blacked-out auditorium is the starting point for this secretive series of scenes which seem like stills from a surrealistic film. The associative ability of the audience is drawn on to maximum effect in a performance with half-masked figures and a limited number of objects. How the performers manage the scene changes in the blackouts is pure magic: Headroom is both high tech and handwork, a true gesamtkunstwerk. For the duo Suzan Boogaerdt and Bianca van der Schoot, now working with the stage director Erik Whien, this is an exciting new step in their unique oeuvre.'

Headroom is part of the Future Fossils (2018-2021) series, a series that questions what it means to make art in the 'non-human era', an era in which humans are no longer the measure of all things.



REVIEWS
'Niet van deze wereld, die figuren met hun strakke gezichten in Headroom.'
— Volkskrant
'Het hoe van deze overrompelend mooie voorstelling is minstens zo geheimzinnig als het wat.'
— Groene Amsterdammer
'Een uitmuntende beeldenstorm.'
— NRC
'Toneel als levende, willekeurige diashow.'
— Parool
'Donkerdansen in Headroom.'
— interview in Theatermagazine Jeroen
'Lege staat van zijn.'
— interview in Scènes
'Virtuoos uitgevoerd waagstuk.'
— Theaterkrant



CREDITS

COLLABORATION Suzan Boogaerdt, Bianca van der Schoot & Erik Whien
FINAL DIRECTION Bianca van der Schoot
WITH Suzan Boogaerdt, Joep van der Geest, Sanne den Hartogh, Bianca van der Schoot & Erik Whien
IN COLLABORATION WITH Peter De Graef
STAGE DESIGN Marloes en Wikke
SOUND COMPOSITION Wessel Schrik
COSTUMES Lotte Goos
LIGHTING Gé Wegman
ASSISTANT DIRECTOR Floor Houwink ten Cate
PRODUCTION PHOTOGRAPHY Sanne Peper
ALL PRODUCTIONS