Playgrounds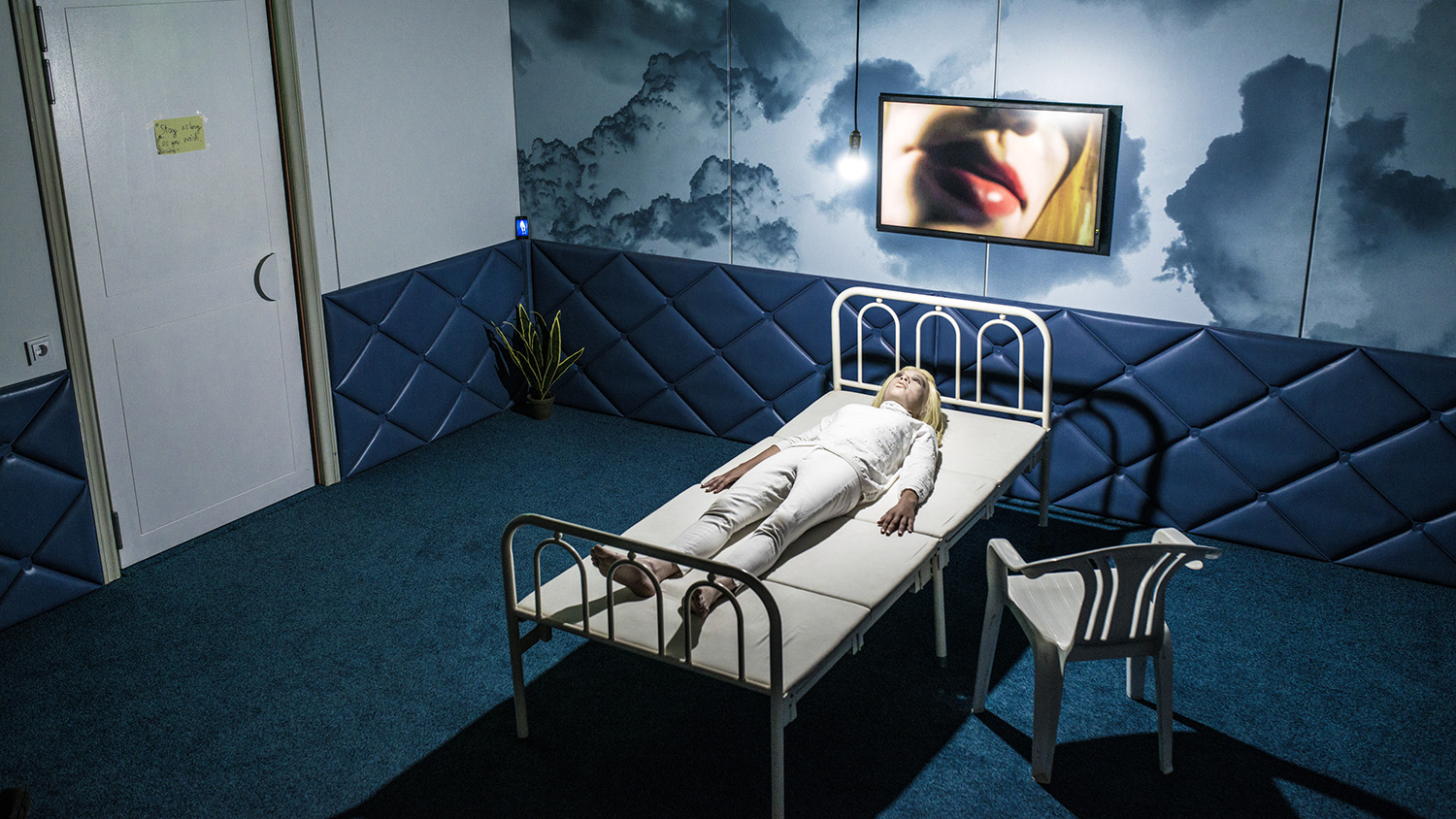 Our House is a diorama in which we see Western man in his habitat. The viewer is challenged to the limit in a tightly orchestrated concept of successive tableaux, which question the notion exhibition in the context of theater. Our House is about a runaway civilization.
Central is a glass house in the middle of the stage, which takes place a series of scenes that are in tableaux 'exhibited'. Each tableau, which takes a one-minute, ends with a sound that draws us into a dark hole. That black hole in turn is filled with electronic, cosmic sounds. One and a half hours the mechanism repeats itself and in that time we see a representation of western everyday life. Life in which men and women are paralyzed in the safe surroundings of their living room. All the performers wear a transparent mask, giving them an artificial appearance.



Our House is a performance in the Playgrounds series in which Boogaerdt/VanderSchoot examines the role of the body and the live encounter in a digitized world dominated by visual culture.



REVIEWS
'Dat maakt van #Our House een kil statement.'
— NRC
'Ongemakkelijk en hilarsich tegelijk.'
— Trouw
'Bij Our House beland je in een bonte installatie.'
— Volkskrant
'Wat betekent een huis eigenlijk voor een menselijk wezen?'
— Our House



CREDITS

DIRECTION Suzan Boogaerdt & Bianca van der Schoot
DIRECTION ASSISTANT Floor Houwink Ten Cate
DRAMATURGY Liet Lenshoek & Petra Eikelenboom
WITH Suzan Boogaerdt, Matteo Bifulco (internship), Peter Boven (internship), Elias de Bruyne, Elliot Dahaspe (internship), Erwin Dörr, Jasper Koopmans (internship), Floor van Leeuwen, Freek Nieuwdorp (stage), Len Pillen (internship), Loes Schaap, Zoe Schollee (internship), Ivar Schutte (internship), Jurriaan de Vos (internship) & David Bade
PRODUCED BY RO Theater
COSTUME Erik Bosman
SCENOGRAPHY John Thijssen & Eva Arends
LIGHT DESIGN Axel Dikkers
ALL PRODUCTIONS