Rooms for transformation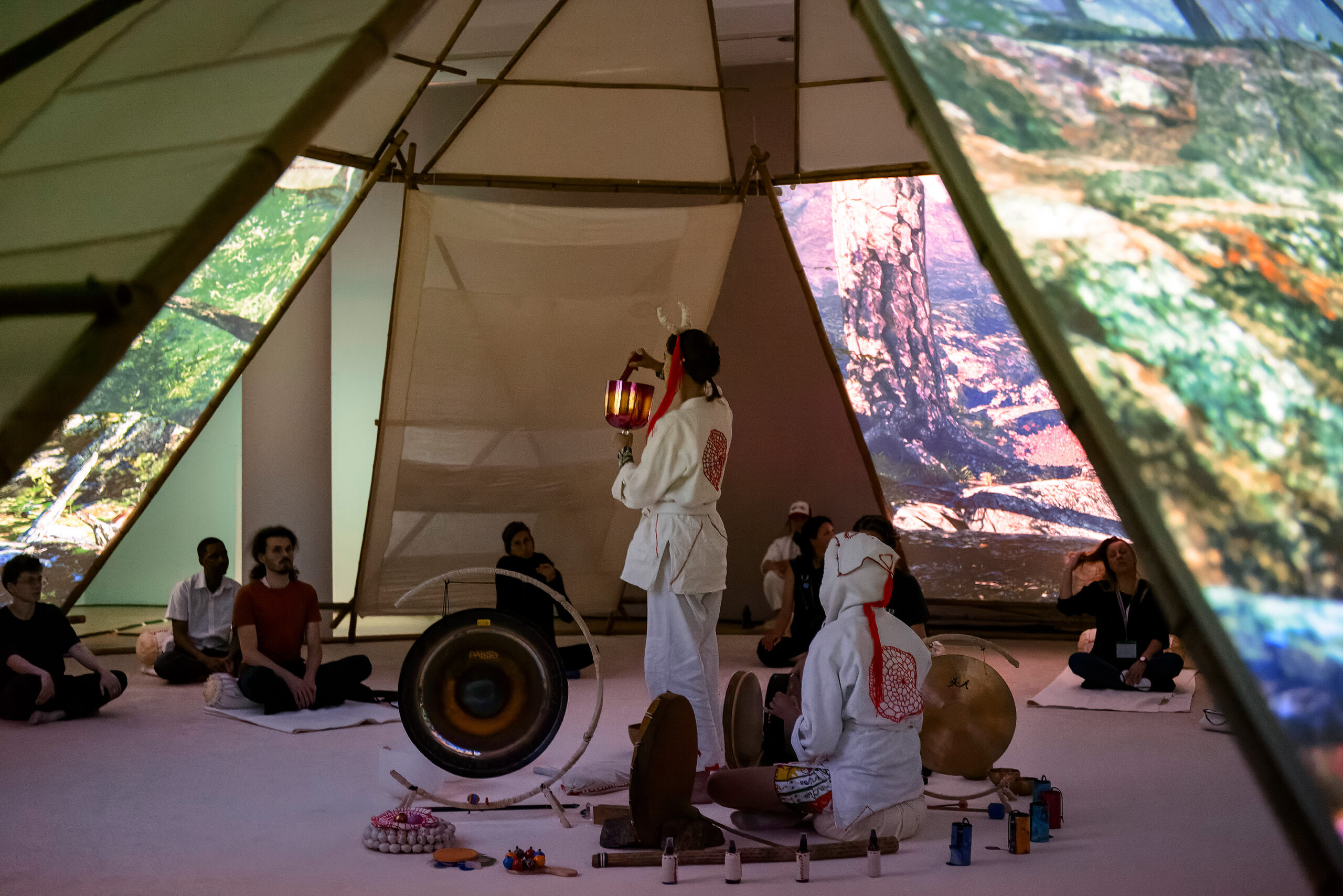 Multimedia room by artist duo Boogaerdt/VanderSchoot in collaboration with Klara Alexova, Lotte Goos, Wikke&Marloes, Rodrik Biersteker and Wessel Schrik.
Echo's Chamber is a room to be silent and to listen to the worlds within and around us. We live in a universe that's in a constant state of vibration. From the movements of the planets to the beating of our heart. Every atom, cell, tissue, organ, and bone in a body is vibrating and that vibration produces sound. This sound can affect every part of every being and is not only 'heard' through ears but through every cell of all the bodies living within this universe.
Echo's Chamber is built to honor the more-than-human world. We are always in a web of relationships, a household of beings. Entering this room is a way to enter back into this complex, tangled network. Here we can practice being body again, because by virtue of being a body we can encounter the wild web of vibrating bodies we're part of. In Echo's Chamber we can listen to the vibrations of all the bodies within and around us. In this quiet place of listening, we can begin to let go of human authorship and allow ourselves to be told instead.
SOUND BATH CEREMONIES
During the weekends Boogaerdt/VanderSchoot will provide, together with Klara Alexova, special sound bath ceremonies: Improvised meditative live concerts, tuned to the energy of the group. Instruments such as quartz crystal singing bowls, gongs, drums, chimes, and tuning forks are used to bring you into a state of deep relaxation where stress release, healing and insight can occur. The ceremony takes approximately 70 minutes, and the sound bath can best be experienced with your eyes closed. Just listen, relax, and float downstream, into the ever-changing flow of vibrating bodies.
CONCEPT AND DIRECTION Suzan Boogaerdt & Bianca van der Schoot
PERFORMANCE AND SOUNDBATH Suzan Boogaerdt, Klara Alexova en Bianca van der Schoot
SOUND DESIGN Wessel Schrik & Klara Alexova
SCENOGRAPHY Marloes & Wikke & BVDS
COSTUMES AND OBJECTS Lotte Goos & BVDS
VIDEO DESIGN Rodrik Biersteker & BVDS
Agenda