Rooms for transformation
A Gateway Experience
In coproduction with Theater Rotterdam and Schauspielhaus Bochum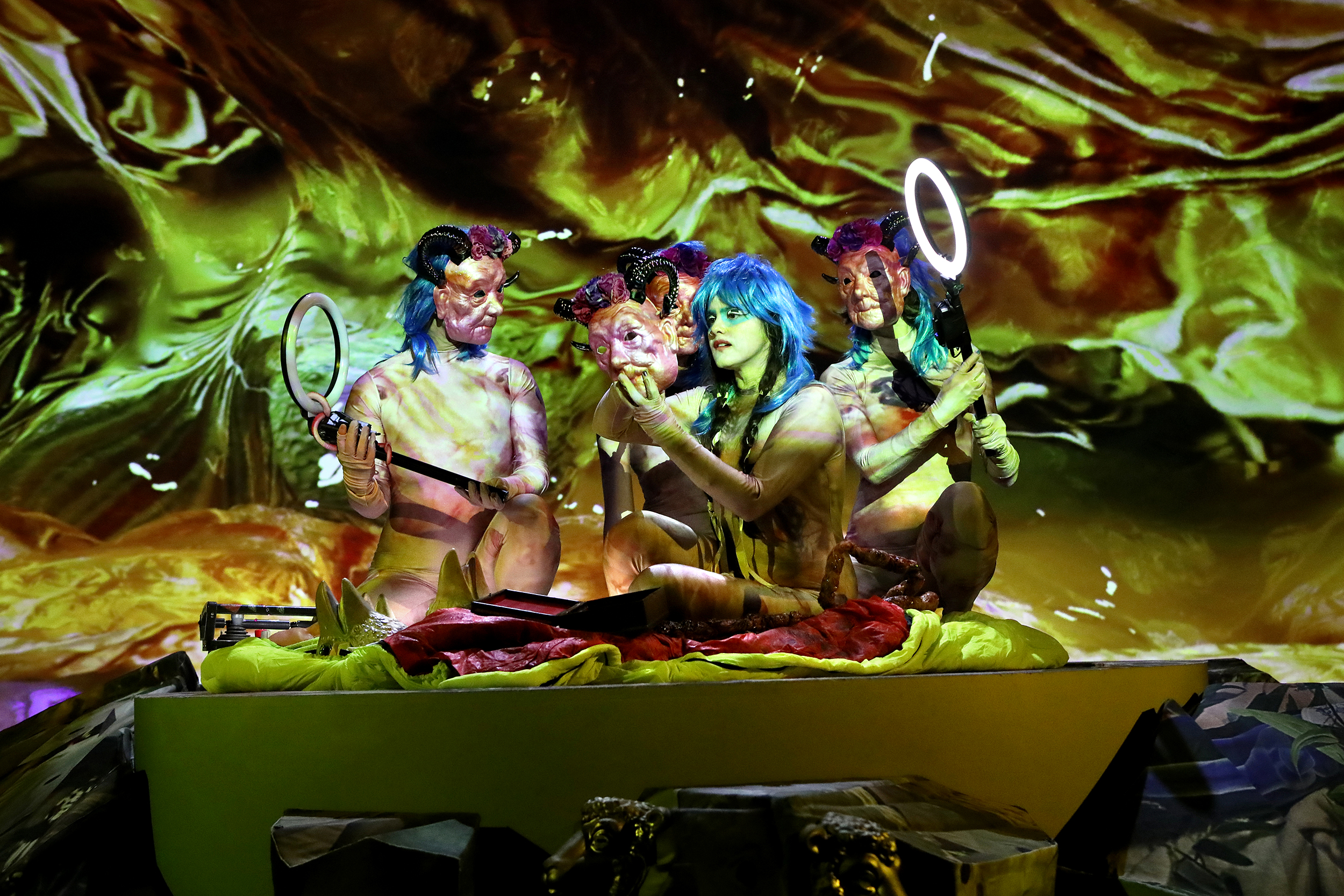 What possible futures can come from a deck of 22 digital oracle cards? In UNDERWORLDS, artist duo Boogaerdt/vanderSchoot will take you on a visionary journey into the great below. A gateway experience where in ancient myth mirrors a shimmering future.
Emerging from the dark is the coming of age of the homo digitalis. BVDS fuses the ancient Greek tale of Psyche's quest in the underworld, into a new visual narrative about the development of humankind. Tunnel down through the visionary journey of Psyche and see the world in vertigo, a world that swarms with technological mediation and makes myths vibrant again. During this rite of passage, escorted by The Shadow Sisters, ritual divination and archaic oracle texts, merge with Insta-filtered faces, reality-shift tutorials, dragons, butterflies, and unicorns. How to be many? UNDERWORLDS shapeshifts in between daydream, nightmare, and game world, and allows the human body, with all its virtual alter egos, to come home to a non-binary multiverse.
Extra info
UNDERWORLDS, a gateway experience is a live performance but can also be seen as a sound and video installation embodied by an ensemble of avatars and real-life bodies. The performance refers to both pop culture and Greek mythology and is based on the story of Psyche and Eros, written in the 2nd century AD by Lucius Apuleius Madaurensis. Although written in patriarchal times, it still contains many references from a long-forgotten time, when God was worshipped as a woman, an animal, a plant or a tree. It therefore offers us another path in the evolution of the self, away from a dualistic, logos-oriented perspective to a non-dual, non-binary or more holistic future.
Out of this old wisdom, for its contemporary quest, BVDS delves into the reality-shift community – a community of girls around the world whose Tik Tok reels went viral during the recent pandemic. In their teenage bedrooms, they sought to make out-of-body journeys into parallel universes. Through Tik Tok and YouTube, they support each other in their efforts. Inspired by the incubation practices of these teenagers, BVDS creates a new myth for gender fluidity and the contemporary quest for wholeness.
The work is part of the Rooms for Transformation series in which BVDS attempts to make space for the future and dream new worlds into being. To arise from structures collapsing all around us, they aim to create space for communal dreaming, care, and healing. In these series, BVDS questions the fixed idea of what is human so as to transition towards a more livable future for all beings.
UNDERWORLDS, a Gateway Experience is a BVDS creation, coproduced by Schauspielhaus Bochum and Theater Rotterdam. Directed by Bianca van der Schoot (NL), performed by Suzan Boogaerdt (NL), Ibelisse Guardia Ferragutti (BR), Jing Xijang (DE)/Charlotte Gillian and Klara Alexova (CZ). Sculptures/masks/costumes by Lotte Goos (NL), stage design by Lena Newton (DE), and video work by Mikko Gaestel (DE), and sound compositions by Remco de Jong (NL) and Florentijn Boddendijk (NL).